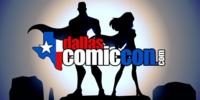 John Morton Added To Dallas Comic-Con Lineup
Posted By Chris on April 26, 2013
Dallas Comic-Con has quickly become the largest and most attended pop culture convention in Texas and you don't want to miss this years event. Check out the official website here.

WHEN?

May 17-19, 2013

BOX OFFICE: Friday 1:00pm-8:00pm, Saturday 9:00am-7:00pm, Sunday 10:00am-5:00pm.
EVENT HOURS: May 17-19, 2013 Friday 2:00pm-8:00pm, Saturday 11:00am - 7:00pm, Sunday 11:00am - 5:00pm.

WHERE?

Irving Convention Center
500 W Los Colinas Blvd
Irving, TX 75039
(At intersection of 114 and NW Highway)

HOW MUCH?

Friday $25.00
Saturday $40.00
Sunday $30.00
3-Day $50.00
Purchase tickets here!

WHO'S COMING?:

William Shatner (Star Trek)
John Noble (Lord of the Rings, Fringe)
Jasika Nicole (Fringe)
Erine Hudson (Ghostbusters)
Jason David Frank (Power Rangers)
Catherine Sutherland (Power Rangers)
Ioan Gruffudd (Fantastic Four, King Arthur, Titanic, Black Hawk Down)
Natasha Henstridge (Species, Ghosts of Mars, The Whole Nine Yards)
Brent Spiner (Star Trek)
Gates McFadden (Star Trek)
LaVar Burton (Star Trek)
Richard Dean Anderson (MacGyver, Stargate SG1, General Hospital)
Kristin Bauer (True Blood, 50 First Dates, Romy and Michele's High School Reunion)
Kelly Hu (X2, The Scorpion King, Cradle 2 the Grave)
Colin Ferguson (Eureka, Because I Said So, Rowing Through)
Tony Amendola (The Mask of Zorro, The Legend of Zorro, Stargate SG1)
Kristanna Loken (Terminator 3: Rise of the Machines, BloodRayne, As the World Turns)
Kevin Conroy (Batman: The Animated Series, Justice League, Batman: Mask of the Phantasm, Batman Beyond)
Andrew McCarthy (Weekend At Bernie's, Mannequin, The Spiderwick Chronicles, St. Elmo's Fire)
Nathan Fillion (Firefly, Serenity, Castle)
Brandon Routh (Superman Returns, One Life To Live, Chuck)
John Morton (The Empire Strikes Back)

AUTOGRAPH PRE-ORDER & SEND-IN SERVICE:

If you cannot attend the show, Official Pix is offering an autograph pre-order and send-in service for most guests. Click here to order. Note: All send-in items must arrive by May 1, 2013.
Related Stories
CEII: Jabba's Palace Reunion - Massive Guest Announcements


Posted By Chris on May 3, 2013:


10 new guests announced!

Star Wars Celebration VII In Orlando?


Posted By Chris on May 3, 2013:


Story updated inside

John Morton Added To Dallas Comic-Con Lineup


Posted By Chris on April 26, 2013:


May 17-19 in Irving, TX

Disney "Limited Time Magic" Star Wars Event On May 4th


Posted By Chris on April 26, 2013:


Exclusives, dancing & fireworks!

Bulloch & Baker Confirm Star Wars Weekends Attendance


Posted By Chris on April 25, 2013:


Bulloch via site, Bradley via Twitter

Bonnie Piesse At Vancouver Mall


Posted By Chris on April 23, 2013:


Saturday, April 27th

The Star Wars Game Experience


Posted By Chris on April 19, 2013:


Roseville, MN from May 3rd - 5th