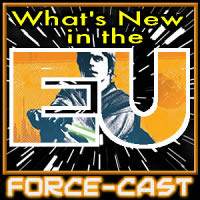 Anyone listening to the Weekly ForceCast knows what a hot topic the
Star Wars
Expanded Universe has become. Some love it, some do not, and others are somewhere in the middle. Join Jimmy Mac, Josh "JediShua" Stolte, Kyle Newman, and me in a roundtable discussion about the current state of the EU, both the good and the not so good.
The ForceCast Saga Continues:
8-5-09
iTunes
Subscribe to the show
via iTunes
and be kept up to date automatically each week.
Zune
Zune users can listen into the show
right here
.
Download
Want to download the show directly to your PC? Then just
click here
to download to PC (Right click, "save as")
RSS Feed
Help Spread The Word!
Show Sponsor:
Go to
AudiblePodcast.com/TFN
for your free audio book download!
FORCE-CAST: LIVE
BE PART OF THE ACTION WEDNESDAYS AT 8:00 P.M. EST ONLY ON
THEFORCE.NET
.
eMail:
Podcast1@theforce.net
Voice mail: 330-754-05FC (330-754-0532).
Discuss show topics in our
forum
.
Follow us on Twitter
Get up to the minute updates on live shows, breaking news, and all things Force-Cast.
Get New Shows In Your Inbox
Subscribe to The Force-Cast by E-mail