Force-Cast: February 9, 2007
Posted By Jason on February 9, 2007


Episode #30 kicks off with the disturbing arrest of Chewbacca the Wookiee in Hollywood. Plus Rob Coleman's latest comments regarding Star Wars: The Animated Series, more 3-D movie news, Jar Jar Binks: Film Pioneer (?) and lots of Star Wars plug and play goodness from JAKKS. Not to mention a preview of next week's interview with Mara Jade model, Shannon McRandle, plus a bit of EU news, your Star Wars Tales as well as the good, the bad and the ugly of listener e-mails. It's all coming your way... if it's Friday, then it's time for The Force-Cast!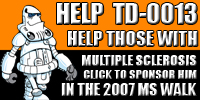 Show notes for February 9, 2007
Sponsor:
COMING SOON - KEEP CHECKING BACK

In the Cantina:

Shannon McRandle
Special Announcement:
Click here to sponsor TD-0013 in his walk to help fight Multiple Sclerosis.

Contact The Force-Cast Crew

Email the Force-Cast crew at podcast@theforce.net.

Leave a voice mail by dialing, 330-871-4TFN.

Discuss show topics in our new dedicated forum.

Email Notification
Want to be notified via email each time a new show is available for download? Just enter your email address below!