Force-Cast: February 2, 2007
Posted By Jason on February 1, 2007


This week on The Force-Cast, we look for meaning behind George Lucas' upcoming appearance at a Museum of Television & Radio event. Plus ILMer, John Knoll, dishes the latest on the future of Star Wars on the small screen. Add a little collecting rumors, the second part of our talk with the team behind You Can Draw Star Wars, a bit of listener mail and you got yourself a show.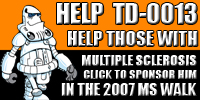 Show notes for February 2, 2007
Sponsor:
Dark Horse On Sale Today
In the Cantina:
Order You Can Draw Star Wars Now!
Special Announcement:
Click here to sponsor TD-0013 in his walk to help fight Multiple Sclerosis.

Contact The Force-Cast Crew

Email the Force-Cast crew at podcast@theforce.net.

Leave a voice mail by dialing, 330-871-4TFN.

Discuss show topics in our new dedicated forum.

Email Notification
Want to be notified via email each time a new show is available for download? Just enter your email address below!