Force-Cast: February 16, 2007
Posted By Jason on February 16, 2007


The Force-Cast "unleashes" itself on the barrage of news in the wake of Toy Fair. And if you thought Toy Fair was just about... well, toys - think again. How about some news on the biggest Star Wars multi-media event since Shadows Of The Empire? How does official confirmation of the Star Wars live action TV series sound? The first glimpse of the Animated Series? If that sounds good to you, then listen on dear fans. Oh, and did we mention we have an interview with Star Wars author/God, Timothy Zahn? Plus your listener mail where you become the star in the Star Wars universe. If it's Friday, it's time for the Force-Cast.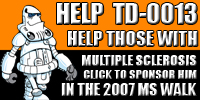 Show notes for February 9, 2007
Sponsor:
Mace Windu Autograph Giveaway
Sponsor:
Official Pix


Links:
True Colors Covered
In the Cantina:
Star Wars Author, Timothy Zahn
End Of Show:
Song: Of All The Wookies by One Night Stan
Special Announcement:
Click here to sponsor TD-0013 in his walk to help fight Multiple Sclerosis.

Contact The Force-Cast Crew

Email the Force-Cast crew at podcast@theforce.net.

Leave a voice mail by dialing, 330-871-4TFN.

Discuss show topics in our new dedicated forum.

Email Notification
Want to be notified via email each time a new show is available for download? Just enter your email address below!