Force-Cast: April 6, 2007
Posted By Jason on April 6, 2007



Pete returns this week for an all new episode of the Force-Cast. Listen in as we review a potpourri of Star Wars news including: a partnership between Master Replicas and ACME Archives, what the Hyperspace and Insider split means for current and future subscribers and why you may never read "the tragedy of Darth Plagueis the Wise." Plus breaking EU news from Jay Shepard, a big Celebration IV update, your Star Wars tales, e-mails and voicemails. If it's Friday, it's time for the Force-Cast.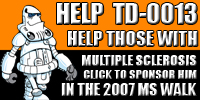 Show notes for April 6, 2007
Sponsor:
The (Dancing) Force Is With The Joey Fatone
Contact The Force-Cast Crew
Email the Force-Cast crew at podcast@theforce.net.

Leave a voice mail by dialing, 330-871-4TFN.

Discuss show topics in our new dedicated forum.

Email Notification
Want to be notified via email each time a new show is available for download? Just enter your email address below!