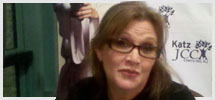 Fisher Confirms Her Involvement In The Sequel Trilogy!
Posted By Jay on November 16, 2012
One of our rebel readers, Curt, wrote in with the following:

"I was at Carrie Fishers booksigning in Cherry Hill, NJ on November 15, and the interview she did started with the question 'Are you really going to be in a new star wars movie?' and Carrie answered quietly 'Yes....I thought it was already common knowledge.' She did not elaborate, as she probably doesn't want to crow too loudly at this point in the project development. But this is the first confirmation from one of the main OT Cast. LFL has not said the cast would return yet."

So there you go! Set speculation to Warp 9, or something like that!

UPDATE: Sadly, it turns out that she was kidding when she made that comment. A representative of Ms. Fisher confirmed that her statement was "tongue-in-cheek." Ah, well. We can always hope that this sparked the right kind of thoughts with Lucasfilm, as we'd love to see her in a new Star Wars film!
Related Stories