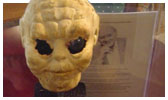 eBay Today 1293: Luminous Beings Are We...
Posted By D_Martin on December 8, 2012
The most tragic thing about the archiving of Star Wars props, costumes, and other screen used items, is the high cost of time. Since these items were created to last for a few months of principal photography, the crude matter used was the best choices for short term life only. To that point, the Yoda puppets on display at museum events are not the real screen used puppet. The real puppets are all breaking down and are not suitable for public display. That being said, this auction is the closet you'll ever get to the screen-used puppet of the diminutive Jedi Master.
Related Stories