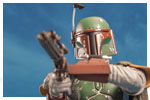 We Want to Give You Kotobukiya's Boba Fett ARTFX+ Kit
Posted By D. Martin on May 21, 2013
We've joined up with our friends at Kotobukiya to give you a chance to take home their Return Of The Jedi Boba Fett ARTFX+ Kit. For a closer look at this stunning collectible, make sure to check it out in our Photo Archive.



All you have to do for your chance to win is leave a contributing comment on any of the stories or newer photo archive galleries on our site. Every time you join the conversation, you'll have a shot at taking one of this stunning set home, but remember we're looking for comments with substance so 'fail' or 'LOL' style posts won't make the cut. The winner will be randomly selected and notified in the thread with their comment. We will publish notifications when we select winners and the winners will have a seven days (one week) to reply back to us with their shipping information. If they do not contact us within the given period, a new winner will be selected, so make sure to keep your eyes on our front page and ensure your Disqus settings allow you to receive reply notifications. The Boba Fett ARTFX+ Statue will be shipped directly from Kotobukiya, and as such, it is important to know that any International winner may have to pay duty and VAT charges.

Do note, chances are good that we won't select winners from the comments on this story, so go check out the stories that interest you and let your voice be heard.

We won't set an end date to this giveaway until just before it ends and as always, the winner will be selected randomly.

Now go, have fun, and good luck!
Related Stories
| | |
| --- | --- |
| July 16, 2013 | Kotobukiya: Mara Jade Bishoujo Illustration Revealed |
| July 1, 2013 | Random Giveaway Is Back! |
| May 29, 2013 | We Want to Give You Kotobukiya's Boba Fett Next |
| May 29, 2013 | We Want To Give You One Of Three Walrus Man Figures |
| May 28, 2013 | We Want to Give You A Rancho Obi-Wan Membership! |
| May 28, 2013 | Someone Just Won The 2013 Movie Heroes Obi-Wan! |
| May 4, 2013 | Kotobukiya Reveals Fully Painted ARTFX+General Grievous |
| April 29, 2013 | Kotobukiya Reveals New Business Card Holders |
| March 6, 2013 | Kotobukiya: Star Wars Business Card Holders |
| February 14, 2013 | Toy Fair 2013: The Kotobukiya 60th Anniversary Party |
| February 14, 2013 | Kotobukiya's Golden R2-D2 ARTFX+ Gift Hits eBay |
| February 14, 2013 | Toy Fair 2013: The Kotobukiya Booth |