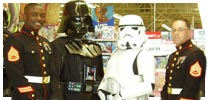 Virginia 501st & Rebel Legion Hook Up With Toys For Tots
Posted By D_Martin on November 8, 2011
Freedom Base of the Rebel Legion and Garrsion Tyranus of the 501st here in Virginia is aligning themselves with the Marines for our annual Toys For Tots drive at TOYS "R" US on Midlothian Turnpike on Saturday November 12th 2011.

We will have members of both groups along with the Marines and Jedi Geoffrey collecting toys for the charity. This is one of our largest charity events of the year.


Here are the details for the location:

TIME: 11am-2pm

PLACE: Toys R Us
1257 Carmia Way
Richmond VA 23235

Vader and his 501st along with members of the Rebellion, including Chewie, Han, Leia, and others will be on hand to take pictures, shake hands and take donations of Toys. All in all there will be about 15+ members of both groups there.


Related Stories