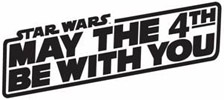 Super7 May The Fourth Rebelscum Vintage Tradefest!
Posted By D. Martin on April 29, 2013
One of the special attractions at Super7's May The Fourth Be With You event that we have a certain fondness for has been revealed. Starting at 3pm PST, attendees can take part in the Rebelscum fan meet up & vintage toy tradefest. It'll be your opportunity to meet up with other forum members and swap out your spare collectibles with one another.
Related Stories