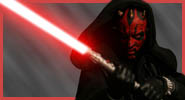 Medicom Toy Corporation's Darth Maul Returns!
Posted By D. Martin on March 15, 2012
With The popular character's return to the big screen, small screen, and toy aisles, Medicom Toy Corporation has rereleased their 1/6 scale Darth Maul Real Action Heores figure. You can pre-order it through their distribution partners Sideshow Collectibles right now. Follow the above link to get yours!
Related Stories