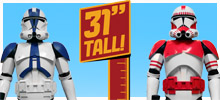 JAKKS Pacific Officially Announce 31-Inch Clone Troopers
Posted By D. Martin on May 2, 2013
JAKKS PACIFIC CELEBRATES STAR WARS DAY WITH RIGHTS FOR REVENGE OF THE SITH 31" GIANT CLONE TROOPER AND 31" GIANT SHOCK TROOPER FIGURES

Malibu, Calif. – May 2, 2013 – In celebration of the upcoming Star Wars Day on May 4, 2013, JAKKS Pacific, Inc. (NASDAQ: JAKK) announced today that it has expanded its worldwide agreement with Lucasfilm to include the Revenge of the Sith 501st Legion Clone Trooper and Shock Trooper to its 31" Giant Figure lineup. Expected to hit store shelves worldwide in Fall 2013, the troopers join the already announced 31" Giant Darth Vader figure, which will be available worldwide at major retailers this summer.

"The legendary clone troopers are as iconic in the Star Wars universe of characters as Darth Vader and Luke Skywalker, and we are excited to add them to our 31" Giant Figure line," said Tara Hefter, Vice President, Licensing, JAKKS Pacific, Inc. "Our stellar lineup of 31" Giant Star Wars action figures will allow a new generation of fans to live out the epic adventures and battles between the Light and Dark Sides of the Force."

"The Force is strong within JAKKS," said Anita Castellar, Global Licensing Manager, Lucasfilm. "Their 31" Giant Figures represent a galactic-sized addition to our figure business, with exciting, larger than life figures that deliver a newhttp://www.collectinghq.com/admin/images/htmlBold.jpg Star Wars play experience for our fans around the world."

With seven points of articulation, highly detailed features and iconic blaster, the 31" Giant Clone Trooper and 31" Giant Shock Trooper are the largest articulated collectible figures of their kind and will retail for U.S. $29.99.

"May the Fourth be with you!"



About JAKKS Pacific, Inc.
JAKKS Pacific, Inc. (NASDAQ: JAKK) is a leading designer and marketer of toys and consumer products with a wide range of products that feature popular brands and children's toy licenses. JAKKS' diverse portfolio includes Action Figures, Electronics, Dolls, Dress-Up, Role Play, Halloween Costumes, Kids Furniture, Vehicles, Plush, Art Activity Kits, Seasonal Products, Infant/Pre-School, Construction Toys, Ride-On Vehicles, Wagons, Inflatable Environments and Tents, Impulse Toys and Pet Products sold under various proprietary brands including JAKKS Pacific, Creative Designs International, Road Champs, Funnoodle, JAKKS Pets, Plug It In & Play TV Games, Kids Only!, Tollytots, Disguise, Moose Mountain and Maui. JAKKS is also the creator of the underlying Monsuno property and toy line. JAKKS is an award-winning licensee of several hundred nationally and internationally known trademarks including Nickelodeon, Warner Bros., Ultimate Fighting Championship, Hello Kitty, Graco and Cabbage Patch Kids. www.jakks.com


About Lucasfilm
Lucasfilm Ltd., a wholly owned subsidiary of The Walt Disney Company, is a global leader in film, television and digital entertainment production. In addition to its motion-picture and television production, the company's activities include visual effects and audio post-production, cutting-edge digital animation, interactive entertainment software, and the management of the global merchandising activities for its entertainment properties including the legendary STAR WARS and INDIANA JONES franchises. Lucasfilm Ltd. is headquartered in northern California.

This press release may contain forward-looking statements (within the meaning of the Private Securities Litigation Reform Act of 1995) that are based on current expectations, estimates and projections about JAKKS Pacific's business based partly on assumptions made by its management. These statements are not guarantees of future performance and involve risks, uncertainties and assumptions that are difficult to predict. Therefore, actual outcomes and results may differ materially from what is expressed or forecasted in such statements due to numerous factors, including, but not limited to, those described above, changes in demand for JAKKS' products, product mix, the timing of customer orders and deliveries, the impact of competitive products and pricing, and difficulties with integrating acquired businesses. Continued payment of the quarterly cash dividend will depend on many factors, including, but not limited to, JAKKS' earnings, financial condition, business development needs, and is at the discretion of the Board of Directors. The forward-looking statements contained herein speak only as of the date on which they are made, and JAKKS undertakes no obligation to update any of them to reflect events or circumstances after the date of this release.

© 2013 JAKKS Pacific, Inc. All rights reserved.
Related Stories