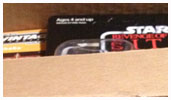 Hasbro: The Vintage Collection "Best Of" Wave Spotted?
Posted By D_Martin on December 28, 2012
Rebelscum reader Mike M wrote in that he may have found Hasbro's re-issued "Best Of" wave at a Walmart in the Bay Area, and it confirms something I saw the other day at a Toys "R" Us in the Palm Desert. Either old stock is hitting shelves again or the new case assortment is shipping already. Mike stated that he found all but two of the twelve, and they match the figures I found. Since both sitings are in California, its safe to assume that the cases are hitting the West coast. If you spot them in your neck of the woods, make sure to let us know.

Update: While this assortment showing up has many of the figures expected in the best of wave, the number code on the box indicates it is not the same assortment... Just very close to it.
Related Stories