Circuit City DVD Exclusives
Posted By Curto on September 2, 2006
Circuit City is giving away a set of really nice prints of vintage poster art in a nice folder presentation
with related graphics on the folder. The prints come out of the folders, but the folders themselves are nice, too, even the backs have really sharp artwork.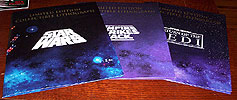 THanks to Jeremy S for the news and pics.