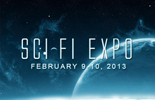 2013 Sci-Fi Expo Autograph Pre-Order & Send-In Update
Posted By Chris on January 23, 2013
There are just a few days left to pre-order autographs from the 2013 Sci-Fi Expo. A very rare guest has just been added: Billy Boyd who played Peregrin 'Pippin' Took in the Lord of the Rings trilogy!

Five new Darth Maul images from The Clone Wars have been added to the Official Pix online store which are perfect to have Sam Witwer sign!

Order autographs from these attending guests:

Andrew McCarthy (The Spiderwick Chronicles, Weekend At Bernie's, St. Elmo's Fire)
Avery Brooks (Star Trek: Deep Space Nine)
Billy Boyd (Lord of the Rings, Master and Commander: The Far Side of the World)
Bruce Boxleitner (TRON)
Christopher Lloyd (Back to the Future)
Cindy Morgan (TRON)
Danai Gurira (The Walking Dead) - FIRST EVER AUTOGRAPH APPEARANCE!
Edward Olmos (Battlestar Galactica)
Erin Gray (Buck Rogers, Silver Spoons)
James Callis (Battlestar Galactica)
James Tolkan (Top Gun, Back to the Future)
Kevin Sorbo (Hercules: The Legendary Journeys)
Laurie Holden (The Walking Dead)
Lea Thompson (Back to the Future, Howard the Duck, Red Dawn)
Morena Baccarin (Firefly, Serenity)
Sam Witwer (Star Wars: The Clone Wars, Star Wars: The Force Unleashed, The Mist, Battlestar Galactica)
Tricia Helfer (Battlestar Galactica)
William Sanderson (Blade Runner, Last Man Standing, True Blood)

Click here to place your order before the January 25 deadline. All send-in items must be received by February 2.
Related Stories